The Dangers of a Boring Security Awareness Briefing: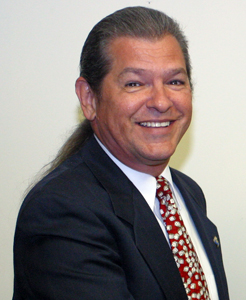 As a legendary security educator and public speaker, the job of Ray Semko (aka The D*I*C*E Man) is to alert people to the different kinds of threats that can adversely affect themselves, their jobs, their families and their country and to motivate them to take action against these threats.
Semko does so in a high-energy, informative and entertaining  way which is specifically designed to make audiences remember the message — that security is important — for a long time.
He motivates, captivates and reminds audiences of their individual security responsibilities — necessary now more than ever.
Semko's famous Defensive Information to Counter Everything (D*I*C*E) security awareness presentations are for any kind of organization, company, government/military agency (federal, state or local), school, university, church, association, civic group, etc —  ANYONE who needs a security/threat awareness wake-up call.
His background: 39 years service to the US Government as a senior Counterintelligence Special Agent in the US Army and then in various Intelligence Community agencies. (bio)
In 1989, while at the Defense Intelligence Agency, he created his first D*I*C*E  briefing, which took off like wildfire and the rest is history with a half million people who've been "DICE'd" (have you?).
Request a DICE Security Awareness Presentation for your organization today and find out why people love to attend Ray Semko's D*I*C*E briefings.
You won't be an unfortunate victim of a boring security briefing.
What They Say:
"Having Ray come and speak is sky rocketing my OPSEC programs awareness. My workforce has been charged up after an outstanding performance." –US Navy manager
"I just wanted to applaud the D*I*C*E Man on one of the greatest briefings I have ever heard. This nation would do well to listen to this briefing. Not just those in the Security field, but every man, woman, and child who comprehend our language. While many briefings will fade from my mind, this one will thankfully stay with me forever." – L-3 Communications attendee
"We had Ray Semko come to Ft Monmouth to give his DICE briefing and it was a huge success. Well worth the money. Ray presented seven briefings in a four day period and each one was not only captivating and motivational but extremely educational for our workforce. –Security Office, USA CECOM, Ft Monmouth, NJ
"Ray is a true patriot and first rate motivational speaker. He always wakes us up and re-energizes us to do our best to protect America's competitive edge." –Northrop Grumman attendee
"This was the the most enlightening briefing I have ever attended. Not only do I intend to be more cautious of my surroundings at all times, but I plan to truly study and make it a point to notice something that 'just doesn't look right' from now on to protect myself, those close to me, and the great nation that I live in and represent." — Contract Specialist, U.S. Army Contracting Command
"You are the best motivator I have seen in my 30 plus years of Government time. You pick people up and motivate them into doing the best that they can do. I would drive 200 miles to listen to you speak."–Tybrin Corp. attendee
"Simply put: An excellent Security Awareness Briefing. Action packed, attention grabber and motivational speaker."–The Aerospace Corporation, attendee