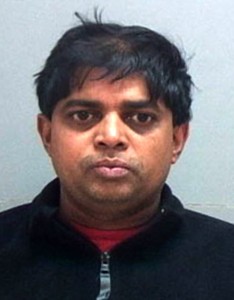 A senior scientist at drug company Frontier Scientific Inc. in Utah — 42 year old Prabhu Mohapatra — was charged for emailing company trade secrets to his brother-in-law in India, who co-founded a new competitor company called Medchemblox.
JDLR Alert: A co-worker saw him create Microsoft Word documents of a chemical formula, which was intellectual property of the company, then convert the documents into Adobe .pdfs and email them from a personal email account on a personal laptop computer Mohapatra brought in everyday. He also used his work computer to create a logo for Medchemblox.
Instead of doing nothing, the co-worker did the right thing by alerting IT managers, thus possibly saving the small company he works for, Frontier Scientific Inc. (FSI), from going out of business and the employees without jobs. FSI is the only company in the world that can make large quantities of the chemical compound Mohapatra stole. The managers began monitoring Mohapatra's computer and found he sent company trade secrets to India.
Mohapatra has been living in the US with his family on a green card and worked for FIS since October 2009.
"Our knowledge in making these chemicals is really our value. It's a compound mostly unique to us. We developed the recipe for large quantities that can be worth millions of dollars per kilogram." —Tim Miller, Chief Executive of Frontier Scientific, Inc.
More info:
Utahn charged with sending company secrets to India [Salt Lake Tribune, 29 Nov 2011]
Cache Valley scientist charged with stealing drug recipes [AP, 29 Nov 2011]
North Logan man accused of industrial espionage [Herald Journal, 29 Nov 2011]
His bio:
Prabhu P. Mohapatra was born in Khairagarh, Orissa, India in 1969. He obtained his Ph.D. degree in synthetic organic chemistry in 1999 under the direction of Prof. Shive M. S. Chauhan at Delhi University, Delhi, India. His doctoral work focused on the biomimetic oxidation reactions using metalloporphyrins as chemical models of cytochrome P450. Then he joined Ranbaxy Research Laboratories, Gurgaon, India (1991-2001) as a Research Associate and worked on development of several active pharmaceutical ingredients. He started his post-doctoral research with Prof. George R. Newkome at The University of Akron, Ohio, USA (2001-2003), where he studied nanoassembly of fractal polymers. His second post-doctoral appointment with Prof. Alan R. Katritzky at the University of Florida, Gainesville, USA (2003-2007) involved research on benzotriazole
assisted synthetic methodology development. He worked at Reviva Pharmaceuticals Inc., San Jose, Californea, USA as a Scientist, Medicinal Chemistry (2007-2009). Currently he is working as a Senior Scientist, Research and Development at Frontier Scientific Inc., Logan, Utah, USA.