From the Daily Telegraph. While this happened in the UK, it is also happening right now in the US:
"He  was very friendly and his English was very good. I did not for one moment think he was a spy. I didn't even realise he was Russian until later."–a British security expert who met Repin at a Whitehall event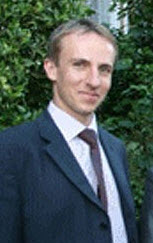 Young, good looking and articulate, he introduced as himself as "Michael" at events at Westminster think tanks and embassy receptions. A slight accent betraying his foreign roots, the tall, suave, urbane young man mixed easily with politicians, businessmen and policy wonks on the Whitehall drinks party circuit.
But rather than being the fast-track civil servant, defence industry high   flier or political adviser that many assumed he was, "Michael" was Mikhail Viktorovich Repin, Third Secretary in the Political Section at the Russian Embassy, and a spy. . .
. . . . Last year the director general of the Security Service MI5, Jonathan Evans, said Russian espionage activities now exceed those of the Cold War with between 30 and 50 of its diplomats in the UK who are really spies.
He said these agents "continue to devote considerable time and energy trying to steal our sensitive technology on civilian and military projects and trying to obtain political and economic intelligence at our expense".
A Security Service counter espionage booklet, produced last year for British nationals visiting or working in Russia, warned people involved with the government, military matters, technology, biotechnology, communications and energy may be targeted by Russian intelligence. This is also the role of Russian intelligence officers working in the UK.
Repin was part of the political directorate known as "Line PR" and answerable to the most senior spy at the embassy the "Rezident".
His job appears to have been to talent spot potential agents in the political world who were in a position to obtain useful information to give Russia a political or economic advantage.
He set about his task with enthusiasm, attempting to "cultivate" individuals who either currently or in future may be of value to the Russians and quickly came to the attention of MI5 "watchers", from the Security Service's A Branch, tasked with keep Russian diplomats under surveillance.
A recent MI5 assessment of the work of these Russian spies says:
"They seek to make contact with a large number of individuals with current or potential access to areas of interest. Most of these contacts will turn out to be unimportant and will not be pursued, but a small number will be. A number of individuals could be recruited as agents in order to provide intelligence or assist in intelligence operations. The potential of a single well-placed agent to provide damaging intelligence justified the very significant cultivation programmes which the Russian intelligence service undertake."
Repin joined international political and military affairs think tanks attending events at International Institute of Strategic Studies (IISS), the Royal United Services Institute (RUSI) and Chatham House.
An annual fee of a few hundred pounds got him access to private lectures by senior military and intelligence officials and the chance to mingle with them at the drinks parties and finger food buffets that often followed the talks. This so-called "overt information gathering" is often the first step in identifying individuals for cultivation.
And these events, a magnet for senior executives from defence firms, military research facilities and Ministry of Defence officials, allowed Repin to approach people and discuss their work and their expertise without them realising they were being targeted by a Russian spy.
Repin was also a regular at diplomatic parties at London embassies and he joined the Young Diplomats of London, a networking organisation for diplomats new to the Capital.
A barbecue at the Russian embassy last year provided him with the perfect opportunity to rub shoulders with guests who included MP Keith Vaz, the chairman of the Home Affairs Select Committee and Simon Hughes, Deputy Leader of the Liberal Democrats.
Other guests at the kebab and vodka event to mark Russian National Day, 11 July, included Lord Hannay, the former British ambassador to the United Nations, senior Foreign Office officials, senior civil servants and a host of ambassadors and other senior diplomats. . . .  [Read the rest]
Additional: