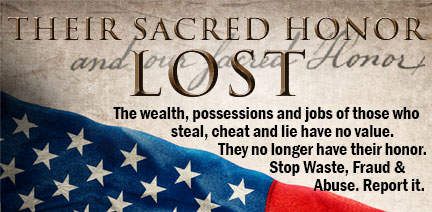 Lured by Promises of Wealth, F.B.I. Agent Was Drawn Into Fraud Scheme, Prosecutors Say
Robert Lustyik, an F.B.I. agent in New York, is charged with participating in a multimillion-dollar international plot that involved an Army lieutenant colonel and a defense contractor.
(New York Times)  . . . The prosecutors say that the contractor, Michael Taylor, a former member of an Army Special Forces team, in 2007 won a contract eventually worth $54 million to train Afghan commandos.
He did so with secret help from Lt. Col. David Young, who has since retired from the Army but at the time was in charge of Special Forces operations in the country, and then made kickback payments to the colonel, according to court records.
When Mr. Taylor, who lives in Boston, learned that federal authorities were looking into the Afghan contract, he turned to Robert Lustyik, the agent with the Federal Bureau of Investigation in New York, enticing the career agent with the promise of wealth in exchange for his help quashing the investigation, prosecutors said. . . .
. . . . On Saturday afternoon, Mr. Lustyik, 50, was arrested at his home in Sleepy Hollow, in Westchester County. He worked in sensitive counterintelligence operations. . . .
. . . . Mr. Taylor had already begun cultivating Mr. Lustyik to help, according to prosecutors. In June 2011, prosecutors say, they began working on business deals that Mr. Lustyik kept secret from the bureau.
According to prosecutors, Mr. Taylor gave or promised Mr. Lustyik $200,000 in cash, and promised shares in several foreign enterprises, including a contract for security and surveillance equipment to the United Arab Emirates expected to be worth more than $100 million.
In one of many e-mails obtained by prosecutors, Mr. Taylor promised to "make you guys more money than you can believe" as long as investigators do not conclude "I'm a bad guy and put me in jail."
Mr. Lustyik promised Mr. Taylor he would get the Utah investigation shut down, saying in e-mails that he would "blow the doors off this thing" and "crush the Utah case agent." . . . . (read more)
_____________
Related
GRAND JURY RETURNS INDICTMENT CHARGING THREE INDIVIDUALS, CORPORATION IN ALLEGED $54 MILLION PROCUREMENT FRAUD, BRIBERY CASE INVOLVING CONTRACT FOR SERVICES IN AFGHANISTAN  (DOJ)
Feds charge Army officer, 2 others in fraud scheme
Court documents detail $54 million scheme to defraud U.S. military
Former Utahn at center of alleged DOD contracting scheme
Utahn bilked Army out of millions, grand jury charges