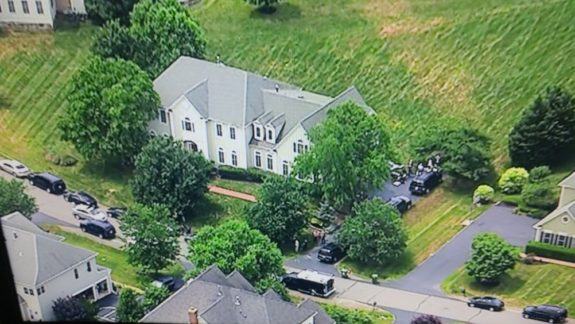 Mallory's home in Leesburg, VA gets surrounded by agents. Records show he paid $1,156,000 for the home in 2005.
Virginia Man Arrested and Charged With Espionage (DOJ)
Kevin Patrick Mallory, 60, of Leesburg, Virginia, made his initial appearance in federal court today on charges that he transmitted Top Secret and Secret documents to an agent of the People's Republic of China.
According to the affidavit in support of the criminal complaint, Mallory, travelled to Shanghai in March and April 2017 and met with an individual (PRC1), who he believed was working for the People's Republic of China Intelligence Service (PRCIS).
The announcement was made by Dana J. Boente, Acting Assistant Attorney General for National Security and the U.S. Attorney for the Eastern District of Virginia; and Andrew W. Vale, Assistant Director in Charge of the FBI's Washington Field Office.
"The conduct alleged in this complaint is serious, and these charges should send a message to anyone who would consider violating the public's trust and compromising our national security by disclosing classified information." — Dana J. Boente, Acting Assistant Attorney General for National Security and the U.S. Attorney for the Eastern District of Virginia.

"Kevin Mallory was previously entrusted with Top Secret clearance and therefore had access to classified information, which he allegedly shared and planned to continue sharing with representatives of a foreign government. Furthermore, he allegedly misled investigators in a voluntary interview about sharing of this classified information. The FBI will continue to investigate those individuals who put our national security at risk through unauthorized disclosures of information." — Andrew W. Vale, Assistant Director in Charge of the FBI's Washington Field Office
During a voluntary interview with FBI agents on May 24, Mallory stated that PRC1 represented himself as working for a People's Republic of China think tank, the Shanghai Academy of Social Sciences (SASS). Since at least 2014, the FBI has assessed that Chinese intelligence officers have used SASS affiliation as cover identities.
Mallory told FBI agents he travelled to Shanghai separately in March and April to meet with PRC1 and PRC1's boss.
After Mallory consented to a review of a device he had been using to communicate with PRC1, FBI viewed a message from Mallory to PRC1 in which Mallory stated that he had blacked out security classification markings on documents transmitted to PRC1.
Analysis of the device also revealed a handwritten index describing eight different documents. Four of the eight documents listed in the index were found stored on the device, with three containing classified information pertaining to the same U.S. government agency. One of those documents was classified TOP SECRET, while the remaining two documents were classified SECRET.
Mallory, a self-employed consultant with GlobalEx LLC, is a U.S. citizen who speaks fluent Mandarin Chinese.
He has held numerous positions with various government agencies and several defense contractors. As required for his various government positions, Mallory obtained a Top Secret security clearance, which was active during various assignments during his career. Mallory's security clearance was terminated in October 2012 when he left government service.
Mallory was arrested this morning and is charged with gathering or delivering defense information to aid a foreign government, and making material false statements.
If convicted, Mallory faces a maximum sentence of life in prison. The maximum statutory sentence is prescribed by Congress and is provided here for informational purposes. If convicted of any offense, the sentencing of the defendant will be determined by the court based on the advisory Sentencing Guidelines and other statutory factors.
Trial Attorney Jennifer Kennedy Gellie of the National Security Division's Counterintelligence and Export Control Section and Assistant U.S. Attorney John T. Gibbs for the Eastern District of Virginia are prosecuting the case.
Additional
Former CIA officer accused of selling top secret information to China (Washington Post)
A former CIA officer sold top secret and other classified documents to Chinese intelligence officials, according to charges filed Thursday in Alexandria federal court. . .
. . . Although the primary government agency in question is not named, two government officials confirm that Mallory worked for the CIA.
Prosecutors say Mallory sent three documents containing classified information, one of which was labeled top secret, to a Chinese intelligence operative in May.
"Your object is to gain information, and my object is to be paid for it," Mallory wrote to the Chinese contact at around the same time, according to an affidavit from FBI agent Stephen Green filed in federal court. Mallory allegedly added that he would "bring the remainder of the documents" on a June trip.
"My current object is to make sure your security (sic) and try to reimburse you," the operative allegedly replied.
The CIA declined to comment Thursday.
According to the affidavit, Mallory told FBI agents in May that he had been contacted in February on a social media site by a recruiter for a Chinese think tank, the Shanghai Academy of Social Sciences. He spoke on the phone with the recruiter and was then introduced to a potential client, whom he traveled to Shanghai to meet in both March and April.
In March, Mallory allegedly reached out to several former CIA coworkers and asked for help getting in touch with a specific department. He told one employee that he believed the people he had met with were working for Chinese intelligence, according to Green. He allegedly also said he had been given a device to communicate securely with the Chinese agent and been taught how to use it. . . .
. . . . Between 1990 and 2012 Mallory was stationed in Iraq, China and Taiwan; he is fluent in Mandarin Chinese. He founded a consulting company, GlobalEx, in 2010.
He attended Brigham Young University and then served in the military. He also served in active army deployments in more recent years.
Charlie Sherrod, a friend and former financial advisor, was shocked by the arrest and charges.
"I find it very hard to believe that he would do something like that," he said Thursday. He knew Mallory as "a strong Christian and a family man." . . . (read the rest)
Former State Department Security Officer Accused of Spying for China (New York Times)
A former State Department diplomatic security officer and military contractor was charged with conducting espionage for China after F.B.I. agents found top-secret documents and apparently incriminating messages on a communications device he brought back from Shanghai, the Justice Department said on Thursday.
The man, Kevin Patrick Mallory, 60, of Leesburg, Va., made his initial appearance in Federal District Court in Alexandria, the department said. He is also charged with lying to federal investigators. . . .
 . . .  In April, it said, Mr. Mallory was returning from a trip to Shanghai when a Customs and Border Protection search of his carry-on luggage revealed that he was bringing $16,500 in undeclared cash into the United States.
In a subsequent F.B.I. interview, the complaint said, Mr. Mallory said he had met an unnamed person at the Shanghai Academy of Social Sciences, a think tank that the United States government believes acts as a cutout for the Chinese intelligence service. That person had hired him to write unclassified papers on an undisclosed topic, he said. . . .  (read more)
For $25,000, a Virginia man allegedly gave China secret U.S. documents (McClatchy News)
A Virginia man arrested Thursday for passing top secret defense information to Chinese intelligence agents in Shanghai faces a possible sentence of life in prison, the Justice Department said.
Kevin Patrick Mallory, 60, turned over the material during trips to Shanghai in March and April, when he met with two Chinese agents, the department said in a statement.
Mallory worked from 1987 to 1990 as a special agent for the State Department Diplomatic Security Service, then went on to "various government agencies" before leaving government in 2012, a criminal complaint said.
During much of his career, which included stints in Iraq, China and Taiwan, Mallory held a top-secret security clearance, the complaint said.
Mallory told the FBI that the Chinese agents paid him $10,000 in March and $15,000 in April during the two trips to Shanghai, and encouraged him to get back into U.S. government service, where he would have access to more secret documents, it said.
The complaint did not specify when counter-intelligence agents first began to suspect Mallory, a fluent Mandarin speaker, of espionage.
But when Mallory landed at O'Hare Airport in Chicago April 21 after a trip to Shanghai, he told customs agents that he worked as a consultant for GlobalEx, a company he said he founded in 2010. He said he had met someone in China through a contact at his church.
Agents found $16,500 in two carry-on bags . . . . (rest the rest)
–
Kevin Mallory
COMPETITIVE INTELLIGENCE and INTERNATIONAL BUSINESS
GlobalEx
Thunderbird School of Global Management
Washington D.C. Metro Area
Manager of major world-wide program targeted to promote business development and operations in the International Marketplace. Significant domestic and international experience in Joint Ventures, operations, and competitive market intelligence, management procedures and systems. Accountability SME for internal IG Audit Team. Extensive international experience in Negotiation, Competitive and Business Intelligence, Anti-Corruption Discovery and Mitigation, Customer Relationship Development and Management with demonstrated functional expertise in market entry development. Experienced in Intellectual Property Rights in China with due diligence experience in Asia and the Middle-East. Specialized experience in International (developing economies) Business Management, operations and analysis. General Manager for major security firm in China. Broad base knowledge and experience in application of specialized physical and security standards and development of Building Projects. Seeking challenging opportunity in an organization with multi-site, broad-spectrum business development and operations management requirements that require creative solutions in implementation of long-term positive results. Multiple academic and professional educational qualifications and degrees; fluent in Mandarin-Chinese and working capabilities several other languages and cultures.
Espionage suspect totally thought messages to Chinese intel were deleted (Ars Technica)
. . . . The FBI took a forensic image of the device and were able to recover other messages exchanged after Mallory's return from China. They were damning:
Mallory requesting tech support: "Also, we may need to go again step by step in my getting the document to become part of the image. Then sending it to you."
The Chinese contact: "I suggest you send all and retype the handwriting. And [document] NO1 is obvious the first page of a complete article, where the else is and why it is black on top and bottom….We will try our best to apply for another sum of amount, as you required. However, I'm not sure it will be the Same amount for now and I will try, and for safety, we cannot send u in one time or in a short period altogether, need to figure out a better way."
Mallory responded: "The black was to cross out the security classification (TOP SECRET//ORCON//…I had to get it out without the chance of discovery. Unless read in detail, it appeared like a simple note…I have arranged for a USD account in another name. You can send the funds broken into 4 equal payments over 4 consecutive days.. .When you agree I will send you the bank E.g. instructions."
Mallory again, talking apparently about the Customs interview: "It was dicey (look it up) when they asked for me by name. If they we looking for me in terms of State Secrets, and found the SD card…, we would not be talking today. I am taking the real risk as you, [another China contact], and higher up bosses know… When you get the OK to replace the prior payment, then I will send more docs. I will also type my notes. NOTE: In the future, I will destroy all electronic records after you confirm receipt… I already destroyed the paper records. I cannot keep these around, too dangerous."
Another Mallory message: "your object is to gain information, and my object is to be paid for."
His contact's response: "My current object is to make sure your security and try to reimburse you."
Images found in the phone's data included a handwritten index of eight documents. Four of those documents were on the phone, and they included Top Secret and Secret classified data. . . . (read all)