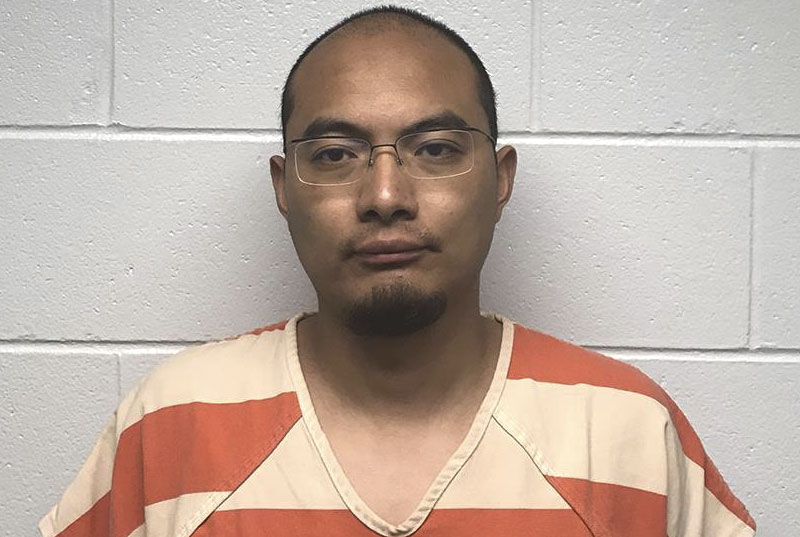 Deputy Division Director with the MSS's Jiangsu State Security Department, Sixth Bureau, Yanjun Xu, aka Qu Hui, aka Zhang Hui
"We will not tolerate a nation that reaps what it does not sow."……
(DOJ) A Chinese Ministry of State Security (MSS) operative, Yanjun Xu, aka Qu Hui, aka Zhang Hui, has been arrested and charged with conspiring and attempting to commit economic espionage and steal trade secrets from multiple U.S. aviation and aerospace companies. Xu was extradited to the United States yesterday.
The charges were announced today by Assistant Attorney General for National Security John C. Demers, U.S. Attorney for the Southern District of Ohio Benjamin C. Glassman, Assistant Director Bill Priestap of the FBI's Counterintelligence Division, and Special Agent in Charge Angela L. Byers of the FBI's Cincinnati Division.
"This indictment alleges that a Chinese intelligence officer sought to steal trade secrets and other sensitive information from an American company that leads the way in aerospace. This case is not an isolated incident. It is part of an overall economic policy of developing China at American expense. We cannot tolerate a nation's stealing our firepower and the fruits of our brainpower. We will not tolerate a nation that reaps what it does not sow." —Assistant Attorney General Demers
.
"Innovation in aviation has been a hallmark of life and industry in the United States since the Wright brothers first designed gliders in Dayton more than a century ago. U.S. aerospace companies invest decades of time and billions of dollars in research. This is the American way. In contrast, according to the indictment, a Chinese intelligence officer tried to acquire that same, hard-earned innovation through theft. This case shows that federal law enforcement authorities can not only detect and disrupt such espionage, but can also catch its perpetrators. The defendant will now face trial in federal court in Cincinnati." —U.S. Attorney Glassman
.
"This unprecedented extradition of a Chinese intelligence officer exposes the Chinese government's direct oversight of economic espionage against the United States." —Assistant Director Priestap
Yanjun Xu is a Deputy Division Director with the MSS's Jiangsu State Security Department, Sixth Bureau. The MSS is the intelligence and security agency for China and is responsible for counterintelligence, foreign intelligence and political security. MSS has broad powers in China to conduct espionage both domestically and abroad.
Xu was arrested in Belgium on April 1, pursuant to a federal complaint, and then indicted by a federal grand jury in the Southern District of Ohio. The government unsealed the charges today, following his extradition to the United States. The four-count indictment charges Xu with conspiring and attempting to commit economic espionage and theft of trade secrets.
***
According to the indictment:
Beginning in at least December 2013 and continuing until his arrest, Xu targeted certain companies inside and outside the United States that are recognized as leaders in the aviation field. This included GE Aviation. He identified experts who worked for these companies and recruited them to travel to China, often initially under the guise of asking them to deliver a university presentation. Xu and others paid the experts' travel costs and provided stipends.
***
An indictment is merely a formal charge that a defendant has committed a violation of criminal law and is not evidence of guilt. Every defendant is presumed innocent until, and unless, proven guilty.
The maximum statutory penalty for conspiracy and attempt to commit economic espionage is 15 years of incarceration. The maximum for conspiracy and attempt to commit theft of trade secrets is 10 years. The charges also carry potential financial penalties. The maximum statutory sentence is prescribed by Congress and is provided here for informational purposes. If convicted of any offense, a defendant's sentence will be determined by the court based on the advisory Sentencing Guidelines and other statutory factors.
This investigation was conducted by the FBI's Cincinnati Division, and substantial support was provided by the FBI Legal Attaché's Office in Brussels. The Justice Department's Office of International Affairs provided significant assistance in obtaining and coordinating the extradition of Xu, and Belgian authorities provided significant assistance in securing the arrest and facilitating the surrender of Xu from Belgium.
Assistant Attorney General Demers and U.S. Attorney Glassman commended the investigation of this case by the FBI and the assistance of the Belgian authorities in the arrest and extradition of Xu. Mr. Demers and Mr. Glassman also commended the cooperation of GE Aviation throughout this investigation. The cooperation and GE Aviation's internal controls protected GE Aviation's proprietary information.
The case is being prosecuted by Assistant U.S. Attorneys Timothy S. Mangan and Emily N. Glatfelter of the Southern District of Ohio, and Trial Attorneys Thea D. R. Kendler and Amy E. Larson of the National Security Division's Counterintelligence and Export Control Section.
Attachment(s):
—-
U.S. Detains Alleged Chinese Spy It Says Tried to Steal GE Trade Secrets (Wall Street Journal)
. . . . A General Electric representative said the Chinese official targeted a former GE Aviation employee and that the impact to the company was minimal. "For months, GE Aviation has cooperated with the FBI investigation," the company said in a statement, adding that "no sensitive information relating to military programs was targeted or obtained."
U.S. officials echoed those assertions, saying GE Aviation cooperated in the investigation, no defense-related information was removed, and internal controls protected the company's proprietary information.
Mr. Xu allegedly concealed the "true nature" of his employment and identified himself as affiliated with a provincial Chinese entity called the Jiangsu Science & Technology Promotion Association, according to court papers filed against him. . . .
. . . . The case came weeks after Ji Chaoqun, a Chinese national court documents linked to Mr. Xu, was arrested in Chicago and charged with failing to register as a foreign agent. Mr. Ji allegedly performed tasks for Chinese intelligence agents, including buying background reports on potential espionage recruits.
Many of those targeted recruits were ethnic Chinese engineers or scientists who worked for cleared U.S. defense contractors. Mr. Ji also enlisted in the U.S. Army Reserves and failed to disclose his foreign contacts during his background investigation, according to the charges filed against him. . . .
. . . . According to the case against Mr. Xu unsealed Wednesday, Mr. Xu helped another official at a Chinese aeronautics university target an engineer at GE Aviation, seeking information about the company's signature material used in aviation engines and other sensitive technology.
Mr. Xu particularly sought information about composite materials in the manufacturing of fan blades and fan-blade encasements, prosecutors said.
Earlier this year, Mr. Xu allegedly continued to press the employee to provide information about the application of research data to engine production and asked him to meet in Europe. Mr. Xu was arrested in Belgium as he sought to hold that meeting, court documents said.
VIDEO: