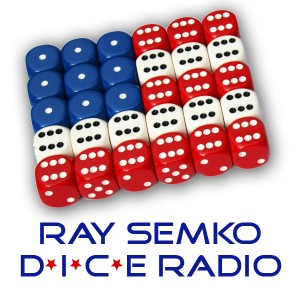 [buzzsprout episode no longer available]
————————————–
Additional Information:
Bradley Manning acquitted of aiding the enemy for giving secrets to WikiLeaks (CBS News)
Bradley Manning, the 25-year-old Army private who gave thousands of classified U.S. military and diplomatic documents to WikiLeaks, was acquitted of aiding the enemy in a military court-martial, but was convicted on multiple other counts.
Judge Col. Denise Lind released the decision Tuesday after three days of deliberation. Manning requested that a judge and not a jury decide his fate.
The charge of aiding the enemy was the most serious of 21 counts. It carried a possible life sentence without parole.
Manning was convicted of six espionage counts, five theft charges, a computer fraud charge and other military infractions. Manning's sentencing hearing is set to begin Wednesday.
Manning pleaded guilty earlier this year to reduced versions of some charges. He faces up to 20 years in prison for those offenses, but prosecutors pressed ahead with the original eight federal Espionage Act violations, five federal theft counts, and two federal Computer Fraud and Abuse Act violations, each punishable by up to 10 years; and five military counts of violating a lawful general regulation, punishable by up to two years each. All told, Manning faces a maximum of up to 136 years in prison for his various convictions. . . . .
U.S. Letter Says Leaker Won't Face Death Penalty (New York Times)
Attorney General Eric H. Holder Jr. said in a letter sent to the Russian minister of justice this week that the United States would not seek the death penalty against Edward J. Snowden, and would issue him a passport immediately so he could travel back to the United States.
The letter also offered reassurances that the United States would not torture Mr. Snowden, the former intelligence contractor who faces criminal charges of disclosing classified information and has been hiding in an airport in Moscow in order to evade the American authorities.
"We believe these assurances eliminate these asserted grounds for Mr. Snowden's claim that he should be treated as a refugee or granted asylum, temporary or otherwise," Mr. Holder said in the letter, which was sent to Justice Minister Aleksandr V. Konovalov.
FROM THE COMMENTS SECTION:
–"The fact that the United States has to reassure anybody that we're not planning on torturing prisoners (and let's not even discuss how we define "torture") is a pretty good indication of how far we've fallen."
–"I hope all of my fellow New York Times readers and commentators who are older than thirty or so will take a moment to pause and contemplate the headline of this article and what it means for America that the United States is assuring Russia that we "won't torture or kill" a government whistleblower. Do you all remember a time not so long ago when a statement like this would have seemed surreal, improbable?"
–"This is what it has come to? The United States of America now has so little credibility in its obligation to follow international law, that it has to publicly promise another country that it won't torture one of its citizens. What a disgrace."
–"It's beyond disturbing that the United States is now a country that has to make these assurances regarding one of its own citizens. To Russia."
–"What an amazing idea that we have sunk so low that we have to reassure Russia that we will not torture our own citizens. Even fifteen years ago such a reassurance would have been unthinkable. Now post 9/11  . . . we are operating in a state of moral bankruptcy."
The Investigative Project on Terrorism website
Exclusive: Banned Cleric's Outspoken Deputy Visits White House (IPT)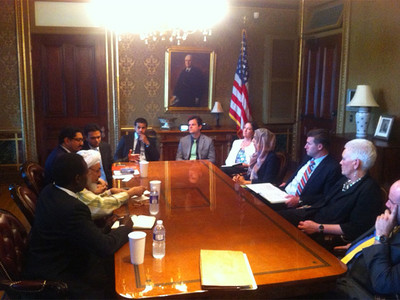 Radical Egyptian cleric Yusuf Qaradawi is considered so radical that the United States banshim from entering the country.
Qaradawi, considered the spiritual leader of the Muslim Brotherhood movement, has called for the killing of Jews and Americans.
That history makes the June 13 White House meeting with Sheik Abdullah Bin Bayyahall the more inexplicable. Bin Bayyah is vice president of the International Union of Muslim Scholars (IUMS), a group founded by and headed by Qaradawi. The IUMS has a long history of supporting Hamas –a top Hamas leader is an IUMS member – and of calling for Israel's destruction.
Bin Bayyah's website claims that he met June 13 with senior Obama administration officials at the White House.
Nonetheless, it was the Obama administration which sought the meeting with Bin Bayyah, his website's account said.
"We asked for this meeting to learn from you and we need to be looking for new mechanisms to communicate with you and the Association of Muslim Scholars (another name used for the IUMS)," Gayle Smith, senior director of the National Security Council, reportedly said.
Bin Bayyah's June 13 account placed other senior officials in the meeting, including: Rashad Hussain, the U.S. special envoy to the Organization of Islamic Cooperation (OIC), National Security Adviser Tom Donilon and White House spokeswoman Jennifer Palmieri. But the account was later changed to delete the reference to Donilon's presence at the meeting. . . .
An Explanatory Memorandum on the General Strategic Goal for the Brotherhood in North America (Muslim Brotherhood document on IPT website)
Excerpt: "The process of settlement is a "Civilization-Jihadist Process" with all the word means. The Ikhwan (Muslim Brotherhood) must understand that their work in America is a kind of grand Jihad in eliminating and destroying the Western civilization from within and "sabotaging" its miserable house by their hands and the hands of the believers so that it is eliminated and God's religion is made victorious over all other religions. Without this level of understanding, we are not up to this challenge and have not prepared ourselves for Jihad yet. It is a Muslim's destiny to perform Jihad and work wherever he is and wherever he lands until the final hour comes, and there is no escape from that destiny except for those who chose to slack. But, would the slackers and the Mujahedeen be equal."
RECOMMENDED FREE ONLINE TRAINING
ON THE JIHADIST THREAT DOCTRINE:
The Muslim Brotherhood in America: A Course in 10 Parts (Center for Security Policy)
4 in 5 Americans live in danger of falling into poverty, joblessness (AP)
Four out of 5 U.S. adults struggle with joblessness, near-poverty or reliance on welfare for at least parts of their lives, a sign of deteriorating economic security and an elusive American dream.
Survey data exclusive to The Associated Press points to an increasingly globalized U.S. economy, the widening gap between rich and poor, and the loss of good-paying manufacturing jobs as reasons for the trend.
The findings come as President Barack Obama tries to renew his administration's emphasis on the economy, saying in recent speeches that his highest priority is to "rebuild ladders of opportunity" and reverse income inequality.
As nonwhites approach a numerical majority in the U.S., one question is how public programs to lift the disadvantaged should be best focused — on the affirmative action that historically has tried to eliminate the racial barriers seen as the major impediment to economic equality, or simply on improving socioeconomic status for all, regardless of race.
Hardship is particularly growing among whites, based on several measures. Pessimism among that racial group about their families' economic futures has climbed to the highest point since at least 1987. In the most recent AP-GfK poll, 63 percent of whites called the economy "poor."
"I think it's going to get worse," said Irene Salyers, 52, of Buchanan County, Va., a declining coal region in Appalachia. Married and divorced three times, Salyers now helps run a fruit and vegetable stand with her boyfriend but it doesn't generate much income. They live mostly off government disability checks.
"If you do try to go apply for a job, they're not hiring people, and they're not paying that much to even go to work," she said. Children, she said, have "nothing better to do than to get on drugs." . . .  .
Millions in U.S. Subsidies Go to Dead Farmers (New York Times)
The federal government pays millions of dollars in farm subsidies each year to farmers who have died, because the Agriculture Department lacks the proper controls to make sure the money it sends is going to the right people, a government audit has found.
The Government Accountability Office, the investigative arm of Congress, said the problem involved several agencies within the department.
The Natural Resources Conservation Service, which oversees the Agriculture Department's conservation programs, sent out $10.6 million in payments between 2008 and 2012 to more than 1,000 people who had been dead for more than a year, according to the report.
The Risk Management Agency, which administers the crop insurance program, paid $22 million to more than 3,400 policyholders who had been dead for at least two years. The G.A.O. said that some of those payments might have been made while the farmer was still alive, but that there was no way to know for sure. . . . .
GAO REPORT:  USDA Needs to Do More to Prevent Improper Payments to Deceased Individuals (pdf)
Made in USA Certified website
Made in USA! Info and Search Engine website
Made in USA Forever website
Made in America Movement website
The Buy American Project website
Pressure to 'Buy America' surging (McClatchy News)
To John Garamendi, the new San Francisco-Oakland Bay Bridge set to open in September is a symbol of failed U.S. trade policy: a $6.3 billion project that used 43,000 tons of Chinese steel and produced thousands of jobs overseas. . . .
Garamendi said California hoped to save money by using Chinese steel on the Bay Bridge, one of the largest public works projects in U.S. history, but the strategy backfired.
"The steel had flaws, the welds had flaws and the end result was no money was saved," he said. "And China used that contract to build a highly specialized steel mill, the only one in the world. . . . That could have been an American steel mill, but it's not." . . .
"American Made Movie" touts USA brand appeal (USA Today)
If you proudly buy locally grown vegetables for your stew, why not buy a U.S.-made slow cooker to cook them in?
You should, say Vincent Vittorio and Nathaniel Thomas McGill. And that idea is the core of the pair's new documentary, American Made Movie. It's a by-now-familiar film about the decline of American manufacturing and its impact on communities — but with a twist.
Instead of relying on trade barriers to protect manufacturing jobs, the film argues that Americans can tap into the same pride of place and craftsmanship farmers have used to fuel the movement toward locally-grown food. Just as people will pay an extra $1 a pound for organic strawberries, Vittorio and McGill say the path to healthier U.S. manufacturing runs through persuading people to buy a $35 U.S.-made slow cooker even when a $25 import is available.
"Protectionism can be Republican or Democratic, and we weren't out to make that kind of film," Vittorio said. "Politics is always uncertain, but the role consumers play in the economy never changes." . . .
Death By China movie website
From best-selling author and filmmaker, Peter Navarro, comes DEATH BY CHINA, a documentary feature that pointedly confronts the most urgent problem facing America today – its increasingly destructive economic trade relationship with a rapidly rising China. Since China began flooding U.S. markets with illegally subsidized products in 2001, over 50,000 American factories have disappeared, more than 25 million Americans can't find a decent job, and America now owes more than 3 trillion dollars to the world's largest totalitarian nation. Through compelling interviews with voices across the political spectrum, DEATH BY CHINA exposes that the U.S.-China relationship is broken and must be fixed if the world is going to be a place of peace and prosperity.
Send Ray Semko feedback on DICE Radio or things you'd like him to talk about.