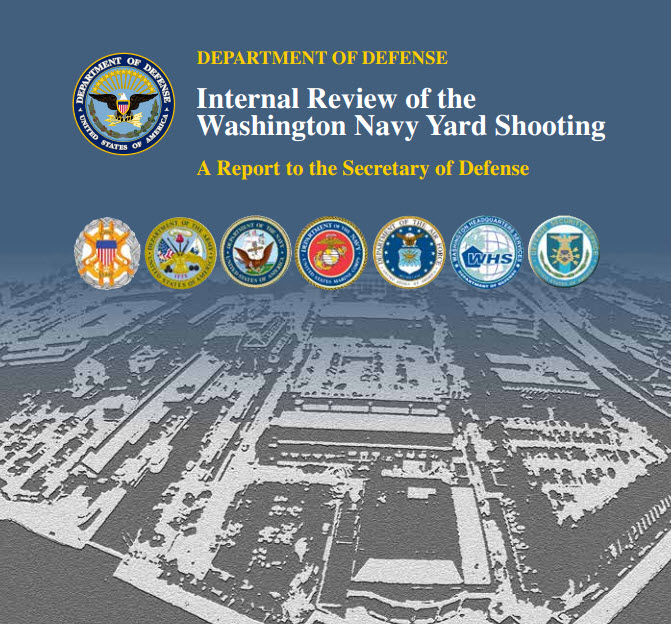 Internal Review of the Washington Navy Yard Shooting: A Report to the Secretary of Defense (DOD, 20 Nov 2013)
(AP) Reviews triggered by the Washington Navy Yard killings last year have concluded that threats to Defense Department personnel and facilities increasingly are coming from trusted insiders, and to defeat them the Pentagon must beef up security from within.
An independent study and an internal review ordered after the September 2013 massacre and released Tuesday said the Pentagon must move beyond an outmoded approach to security that focuses on building better walls and defending the perimeter. More attention must be paid, they concluded, to defending against threats from inside the workforce. . . . (read more)
Navy Yard shooting might have been prevented, Pentagon review shows (Washington Post, 19 March 2014)
A Pentagon review of the Sept. 16 mass shooting at the Navy Yard revealed "missed opportunities for intervention" that could have stopped gunman Aaron Alexis from keeping his security clearance and unfettered access to military facilities.
Results of internal probes and an independent review of the case released Tuesday portray a security clearance review system ill-equipped to screen "insider threats" in real time. The review cast blame on Navy officials and the information technology company that employed Alexis. . . . (read more)
Federal agencies embrace new technology and strategies to find the enemy within (Washington Post, 7 March 2014)
U.S. to Secret Clearance Holders; We're Watching You (AP, 11 March 2014)