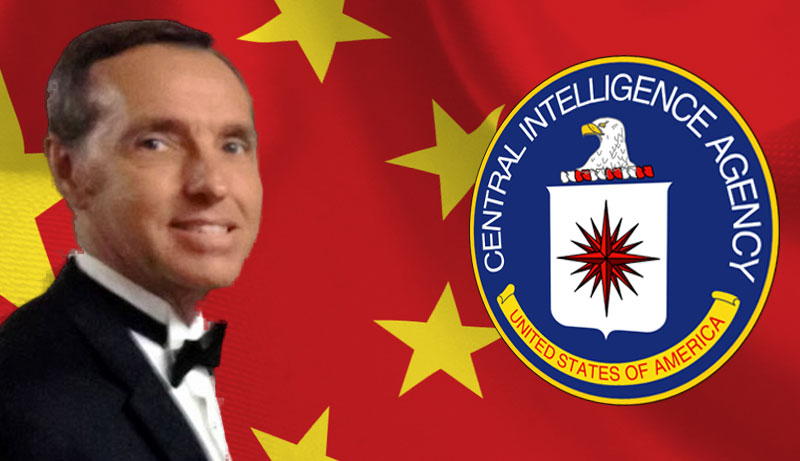 This article from the BBC gives a good, in-depth look at not only Chinese intelligence operations here in America but also the methods PRC intel officers used to recruit former CIA officer Kevin Mallory to spy for communist China. Especially relevant if you live in Northern Virginia. One of the odd things is that Mallory attended a Chinese Mormon church near his home in Loudoun Country, Virginia, "where he was known as Zhiping Mao." ????  Read on to learn more about Chairman Mao:
Kevin Mallory: The churchgoing patriot who spied for China (BBC)
US officials say China is trying to influence US policymakers, steal secrets and spy on the US government. But how? The story of Kevin Mallory, a man who seemed to lead a typical suburban life in Virginia, provides the answer. . . .
. . . FBI agents searched Mallory's house, a place with a red banner covered in Chinese calligraphy that hung alongside the front door, his yard and, according to neighbours, a bridle path where he used to go on runs. His street in Raspberry Falls, a Leesburg subdivision, looked like a war zone, with helicopters circling in the air and armed men charging through the grass.
One year later Mallory, 61, was found guilty of espionage.
In a real-life episode of The Americans, a TV spy drama that takes place in northern Virginia, Mallory had lived a double life: he helped people on his street with yard work, went to church and assisted immigrants with income-tax forms. Yet at home he communicated with Chinese agents through social media and sold them US secrets.
Today he faces life in prison – and he is now awaiting sentencing. His punishment may serve as a warning to others who may be contemplating espionage, say US justice department officials. It also highlights the tense nature of the US-China relationship.
The US has entered a new "cold war", said the CIA's Mike Collins, deputy assistant director at the agency's East Asia mission centre, at the Aspen Security Forum last year.
Chinese officials are investing billions of US dollars in global influence operations and espionage, according to research by a former CIA analyst, Peter Mattis.
The Chinese officials are attempting to gain inside information about the White House and the government, according to US officials, and shape the way that Beijing policies and its commercial and military activities are perceived on the world stage. . . .
. . . . Leesburg, a town in Loudoun County, provides a textbook example of the Communist Party's mode of operations. Located 40 miles from Washington, Leesburg has old-fashioned streetlamps, brick sidewalks and picket fences, evoking authentic Americana, and seems far from global conflict.
Yet Chinese agents lured Mallory, working out of his Leesburg home, into their spy ring. Separately Chinese officials obtained access to the airwaves of a local radio station.
The Chinese officials bought access to a Leesburg station, WCRW 1190 AM, through a subsidiary company. The 50,000-watt station used to be housed in a low-slung building with plate-glass windows, but the place was sold to a family several years ago.
Under a new style of management, WCRW transmitters were moved to Ashburn, a town closer to Washington. The radio towers are posted on property owned by a company, Loudoun Water, near an installation of China's Zigong Lantern Festival, a travelling exhibit that was open in December. "They wanted a stronger signal," says Kristen Umstattd, a local official, referring to the station owners.
A former CIA analyst who has studied in Taiwan, she says that last year the station owners received permission to expand their programming hours. A station engineer says they now broadcast 24 hours a day. "I hope somebody above my pay grade is paying attention," Umstattd says. . .
. . . For the Chinese agents, Mallory was a catch. He has dark brown hair, a broad smile and an easy-going manner, and he does not drink alcohol or coffee. He had worked as a covert CIA officer and held security clearances that gave him access to the nation's most valuable secrets.
By the time he was approached by the Chinese in early 2017, though, he was working as an independent consultant and was struggling to make ends meet.
Randall Phillips, an investigator with the Mintz Group, previously served as the CIA's chief representative in China. Speaking on the phone from Shanghai, he says the Chinese agents tried to make Mallory feel special. "They played with the guy's vanity," says Phillips. It's a time-honoured technique often joked about. "I keep waiting for the honey trap," one CIA official said recently in a Washington bar.
The Chinese agents approached Mallory not in a bar but on LinkedIn, saying in a casual way: "Hey, will you join my network?'"
According to court records. Mallory replied: "I'm open to whatever. I've got to – you know – pay the bills." . . . .
. . . .Mallory, one of nine children, graduated from university in Utah with a political science degree and spent time in the military before working as a CIA operative. He lived in Iraq, China and Taiwan and married Mariah Nan Hua in Taipei.
In 2006, they bought their house in Raspberry Falls for $1.16M, with their three children, an adopted Alaskan malamute-style puppy Misty and another husky, Sierra.
Mallory and his wife spoke Chinese at home, a place decorated with brightly coloured throw pillows, a framed picture of a Mormon tabernacle and a rice cooker resting on a kitchen counter.
His own life reflected the way Americans and native Chinese speakers have come together in northern Virginia over the years. About 14% of the population in Loudoun County is Asian American, ,according to census data .
On Sundays Mallory and his wife would head to church, where he was known as Zhiping Mao. Many of their friends at church are native Chinese speakers – they sing lyrics in Chinese (you can follow the English-language version in a hymnbook) in a back room.
Others at the church have a similar background to Mallory. Fluent in Chinese, these middle-aged men work for the CIA or other intelligence agencies. As one of Mallory's friends commented, "You can't swing a dead cat without hitting someone with a security clearance."
Mallory used to remind people in Raspberry Falls how lucky they are. "He'd say: 'You're living the American dream," recalls a family friend. "He'd tell people they should appreciate what they have."
Another friend, Delrose Winter, recalls a day when Mallory and his family came over for a Fourth of July barbecue. They wore red, white and blue on that Independence Day and seemed "very patriotic", she says.
But after the 2008 real estate crash, his fortunes changed. His house plummeted in value, and later he lost his job. A scientist who lives nearby, says: "They were under severe financial stress." Another neighbour says: "They were under water", adding: "That contributed to his desperation."
By the time the Chinese agents got in touch with Mallory, he had $30,000 in credit card debt, according to court records, and was behind in his mortgage payments.
His new acquaintance on LinkedIn introduced him to someone who worked for the Shanghai Academy of Social Sciences, a think-tank that provides offices for scholars and cover for intelligence agents. He offered Mallory a position as a consultant.
Mallory flew to Shanghai and met his new bosses in a hotel room. These men did not say they worked for the intelligence agency, but they did not deny it either. During that meeting, the hair on Mallory's neck stood up, he later said. He had agreed to take their money, though.
"They get you to cross a line," says Phillips, the former CIA officer. "Once you do, it's harder to get out." . . . . (read the whole article)
–
Additional Posts about Mallory: