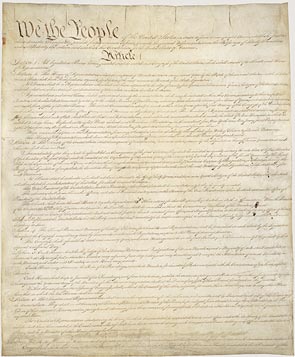 Hillsdale College is offering a free, online college course on the US Constitution. Too many were never taught or have forgotten the importance of this document, especially in today culture. We Americans are so fortune to have a Constitution like this and we should never take it for granted. Attending this course is an opportunity to increase your knowledge and be a better citizen for it. Here is all the info:
"Constitution 101: The Meaning and History of the Constitution" is a 10-week online course presented by Hillsdale College. Featuring an expanded format from the "Introduction to the Constitution" lecture series with Hillsdale College President Dr. Larry Arnn, Constitution 101 follows closely the one-semester course required of all Hillsdale College undergraduate students.
In this course, you can:
watch lectures from the same Hillsdale faculty who teach on campus;
study the same readings taught in the College course;
submit questions for weekly Q&A sessions with the faculty;
access a course study guide;
test your knowledge through weekly quizzes; and
upon completion of the course, receive a certificate from Hillsdale College.
You must register in order to participate in Constitution 101. Click here to register
Lectures and other study materials will be released by noon each Monday according to the schedule below. Once released, they are available to view at your convenience. Each lecture is approximately 40 minutes in length.
Schedule:
Introduction: The American Mind, Larry P. Arnn — Monday, February 20, 2012
The Declaration of Independence, Thomas G. West — Monday, February 27, 2012
The Problem of Majority Tyranny, David Bobb — Monday, March 5, 2012
Separation of Powers: Preventing Tyranny, Kevin Portteus  — Monday, March 12, 2012
Separation of Powers: Ensuring Good Government, Will Morrisey — Monday, March 19, 2012
Religion, Morality, and Property, David Bobb — Monday, March 26, 2012
Crisis of Constitutional Government, Will Morrisey — Monday, April 2, 2012
Abraham Lincoln and the Constitution, Kevin Portteus — Monday, April 9, 2012
The Progressive Rejection of the Founding, Ronald J. Pestritto  — Monday, April 16, 2012
The Recovery of the Constitution, Larry P. Arnn — Monday, April 23, 2012